Alright football fans. Rock Hill and Northwestern are set to battle again this Friday night. I'm sure no one is giving Rock Hill a chance but I thought I'd post this thread to get those kids fired up.
These time capsule threads got a great response in the off season and I'd make more of them except for how labor intensive they are to create. There's a lot of screen capturing and photo-shopping that goes into putting one together that fans can read and enjoy.
In any case, I've really been looking forward to doing this one because this is what football is all about. I think fans from all over the state will enjoy reading this one. If you love High School football and crosstown rivalries then be sure to take time to check it out. It was every bit as magical as the Dorman/Spartanburg showdown in '94. Both games featured two undefeated crosstown rivals meeting up late in the season to settle the score on who's the best in the state. And both games lived up to the hype.
For the record, I did tell trojangrad78 that I was going to post this in hopes that it would fire up the Bearcats for the game this year. He just chuckled and smugly said, "Go right ahead. It won't help them."

Seriously, the only reason I know of this game is because of trojangrad78. He told me all about it last year and I'm sure he'd love to see the Bearcats get up for this game and make it a good one this year.
So let me just set the stage...
On Nov 3, 1989 Rock Hill and Northwestern meet at D3 stadium in the last regular season game both undefeated. The winner not only wins region 2-4A but also claims the #1 seed in the state, the loser gets the #2 seed.
So without further adieu let's start with the articles from the week before. This is from the Saturday paper the morning after Rock Hill and Northwestern beat Dorman and Gaffney respectively to get them to their inevitable showdown...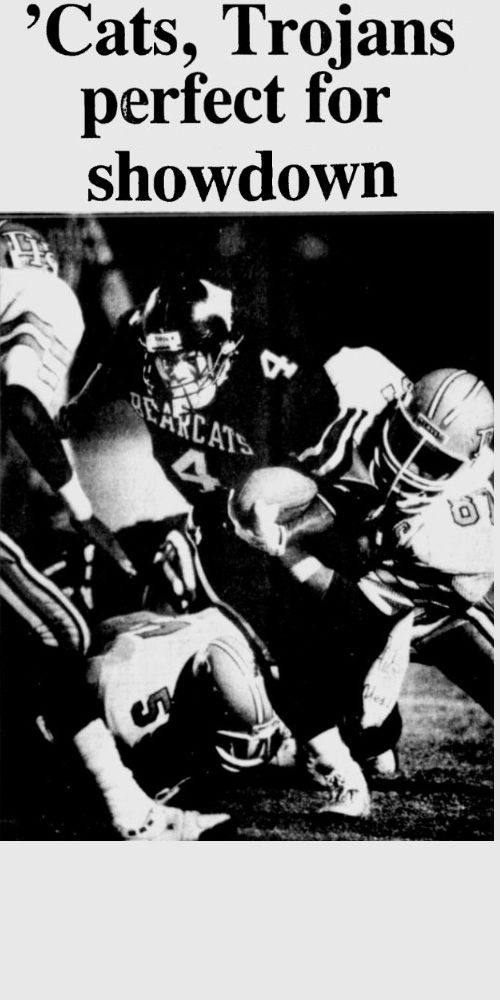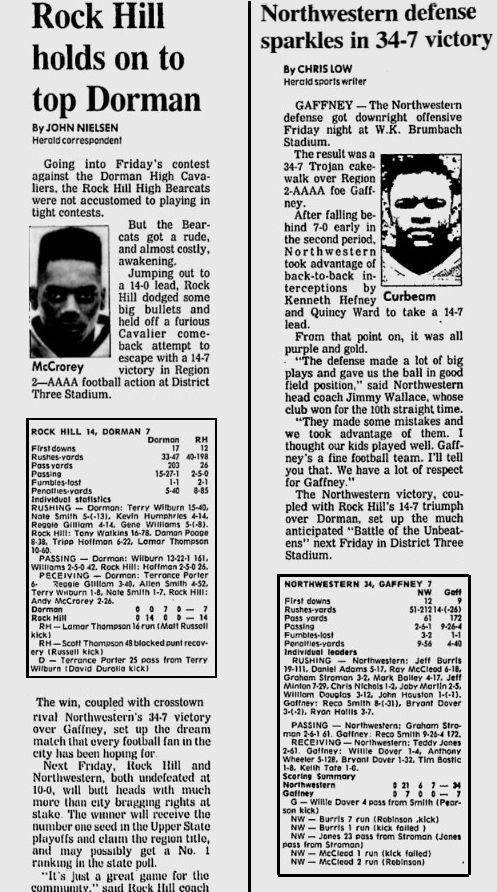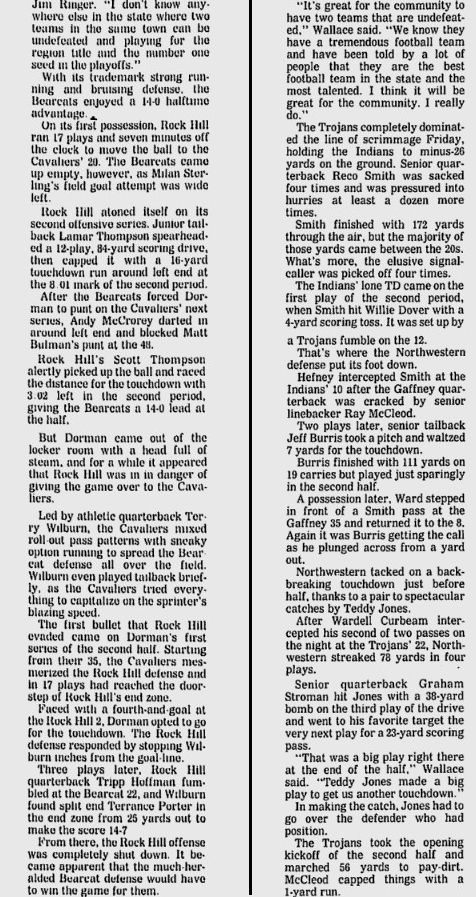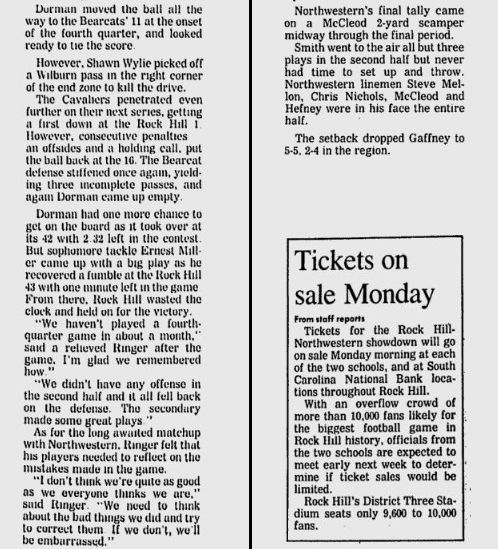 Here's an article in the Sunday paper...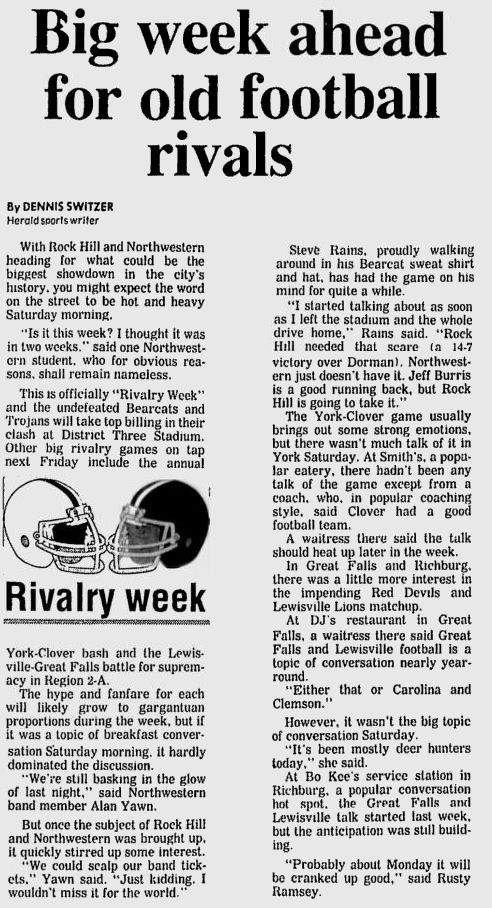 Here's the Monday article...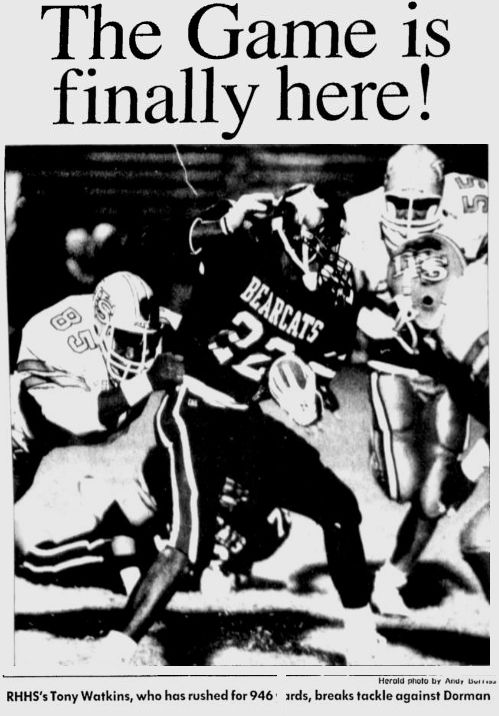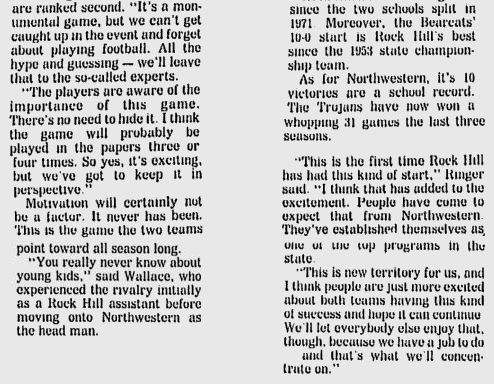 Here's Tuesday's articles...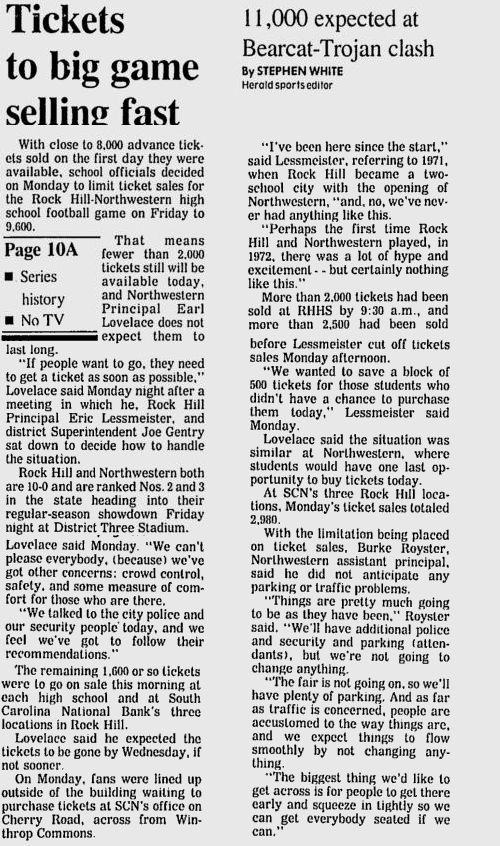 Wow, even if you don't feel like reading the game notes, at least check out the scores for the following series history between the two teams. It reads like a 17 round boxing match in a Rocky movie...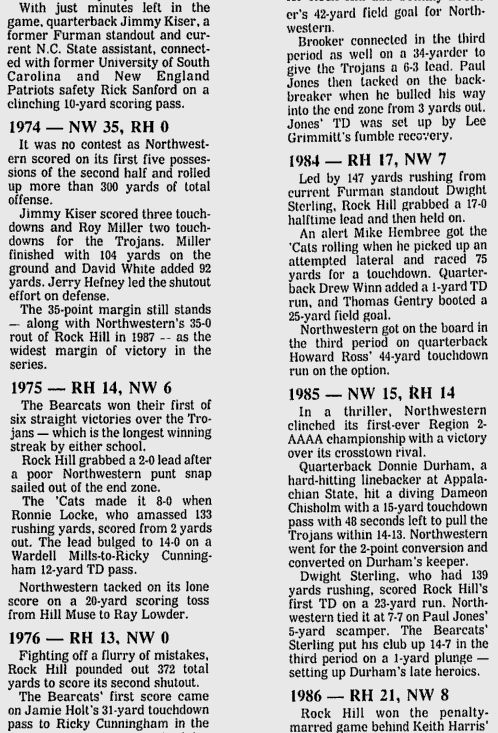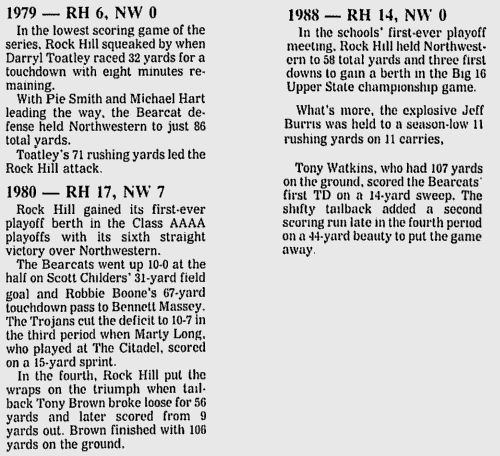 OK, this next one gave me a chuckle only because I knew right away what people would think when they read it. It was sent into the paper by a reader and printed on Wednesday. And to go ahead and answer the inevitable question...No, I am not this person nor am I related to him...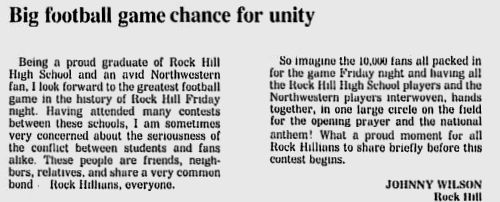 More from the Wednesday paper...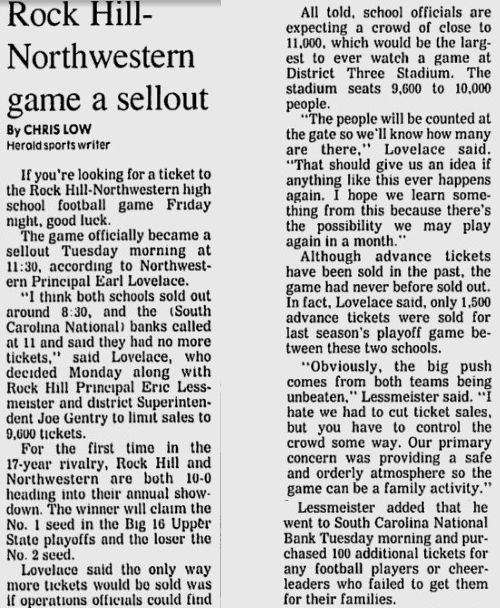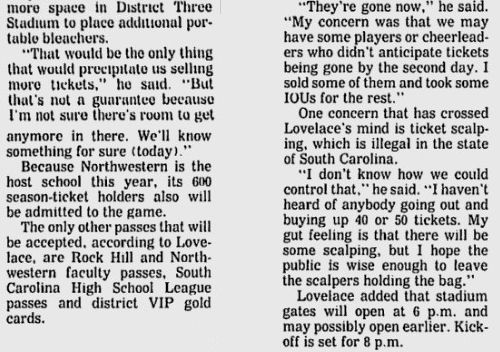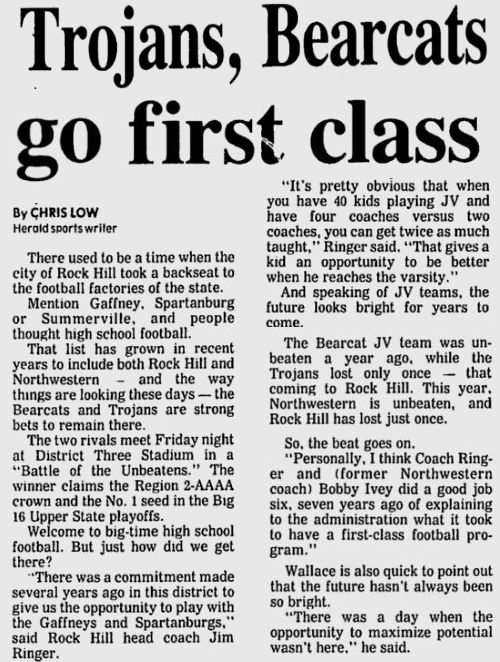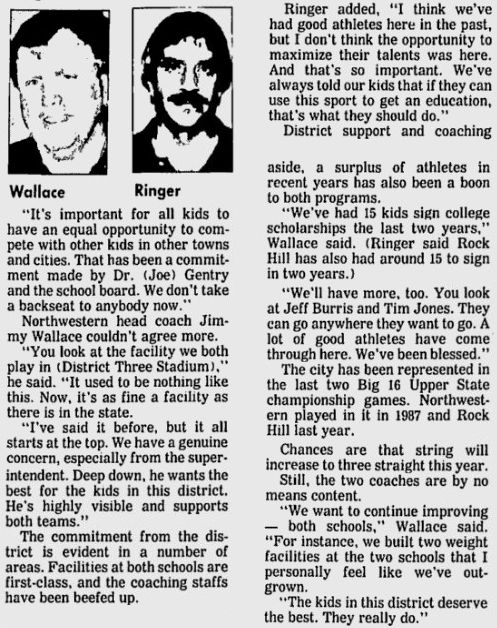 Thursday's paper...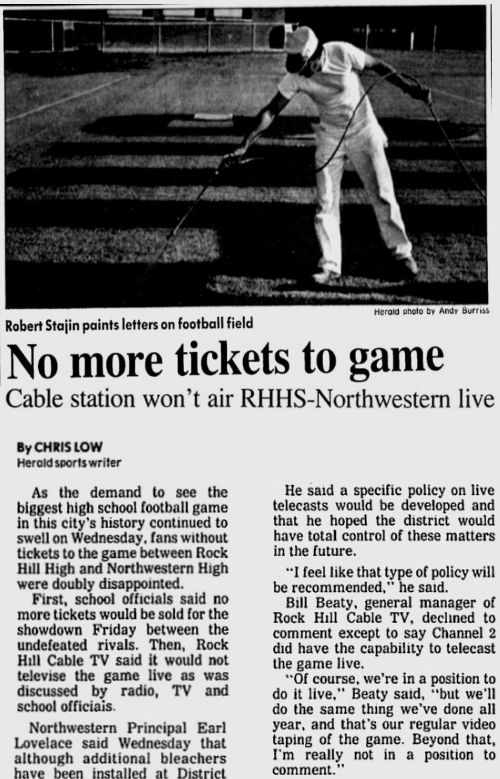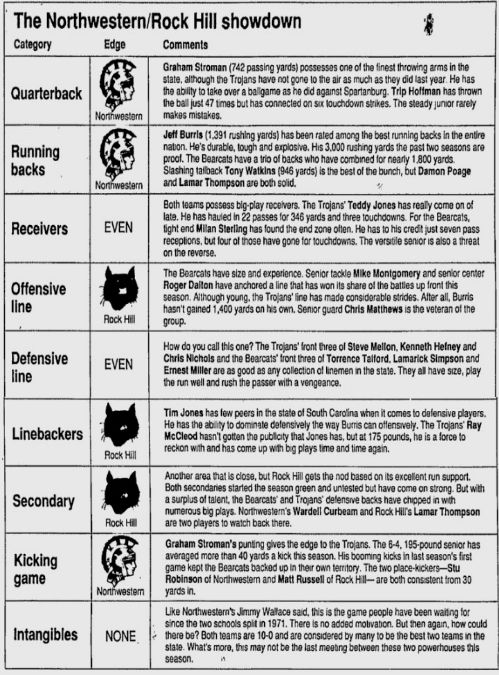 Friday....GAME DAY!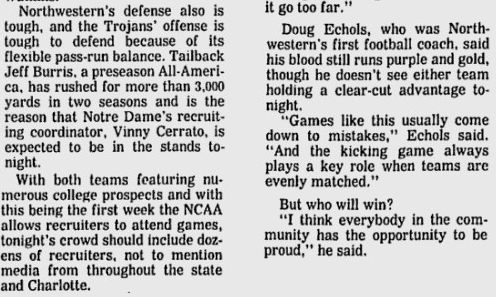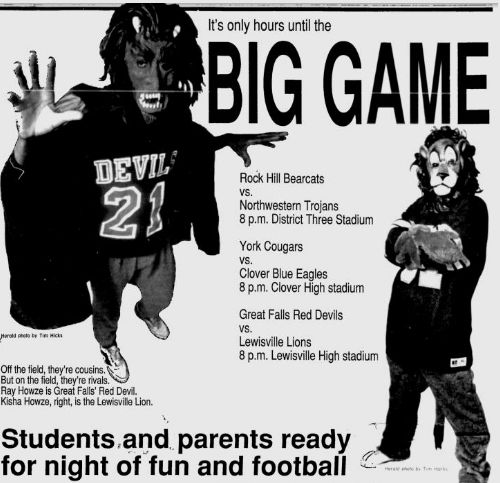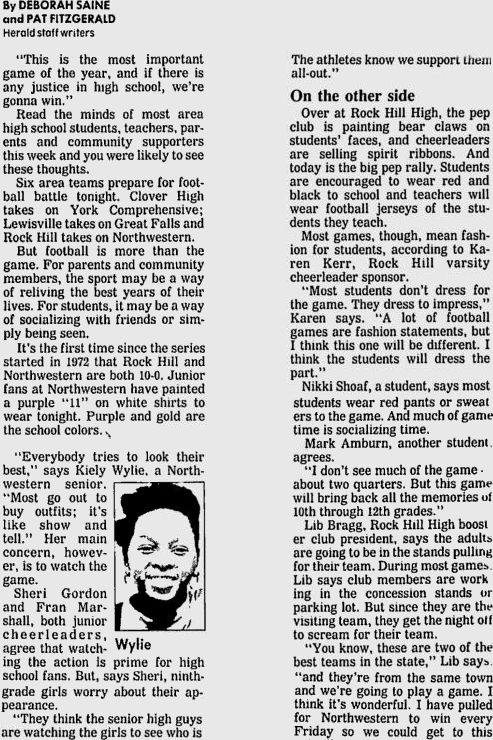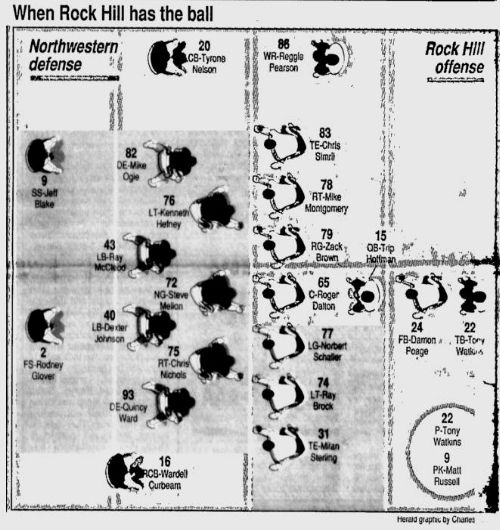 The newspaper printed banners for the fans...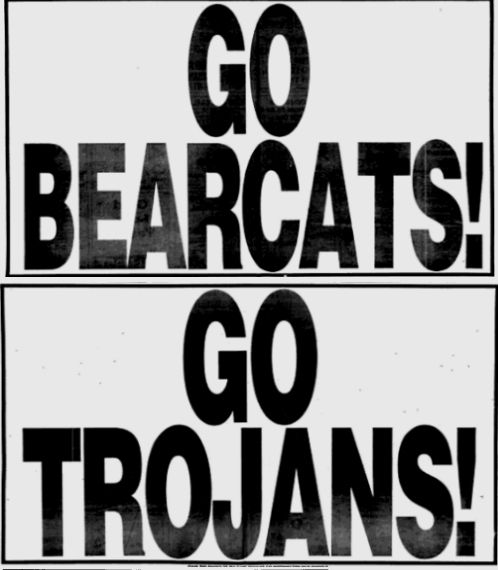 And talk about a football town. Check out the Friday ads...
Saturday morning after the dust has settled...